Please Read This First
The Honourable Company of Horners has created this Supplementary Blog to enhance the HCH's regular website. We will use this Blog to give you information that does not easily fit within the structure of the other website.
If you would like to highlight an event or item, please send the information and images to: HCHwebmaster@jwwebsolutions.com.
Always check www.HornGuild.org for additions by clicking on the tab just above.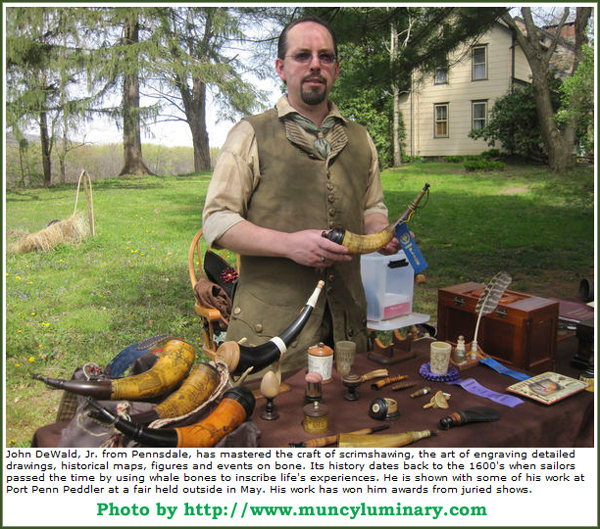 It is always nice to see one of our own in the historical arts being highlighted in the mainstream press. It is even nicer to read the article when the writer gets it "right!" The HCH thanks Barbara C. Barrett (with The Luminary) for writing this great article on John DeWald.
Please follow this link to read an interview of our John DeWald by  on July 3, 2012.
It is always nice to see a loyal HCH member get his due in a national publication.  John Hayes crafted an excellent article on Mark Thomas for the December 2011 issue of Muzzle Blasts (the official publication of National Muzzle Loading Rifle Association). I read it twice and gave Mr. Thomas a phone call.
Our conversation was a little meandering… Shakerism, religion in America and England in the 18th Century, modern knife making and powder horn work. This was just in the first ten minutes! It always fun to speak with Mr. Thomas. I did ask him why he seems kind of dour in all of the published pictures of of him. He replied, "Those are the ones I have." Well here is a picture I took at the Southern Arms and Crafts Show this year. Hopefully, it shows a artisan with a sense of humor as big as his talent.
By the way, his horn coloration is not a secret. He soaks his horns in bath of walnut and butternut hulls with osage orange sawdust. Sometimes he will hit a horn with a Bivins walnut stain if the horn needs a little something.
Please enjoy these pictures of some of Mark Thomas' work. Every piece has some element of horn work.
Thanks for reading,
Rick Sheets
Here are some links to things mentioned in this blog post:
Southern Arms and Crafts Show (Williamsburg, VA).
The National Muzzle Loading Rifle Association.
Mark Thomas, Craftsman to the Past.
th
century style. One would think that this avocation would satisfy his artistic needs, but not so. While visiting with Jim Leach, who is a Journeyman Saddler with the Colonial Williamsburg Foundation and long-time horner and HCH member, Dumke was exposed to horn work .  Jim's wife asked Dumke if he was a "horner." Dumke said, "A what?" Dumke soon found out what a horner is.  After viewing Jim Leach's work, Dumke was hooked. Two and a half years and tweny-five horns later, with a class with Roland Cadle under his belt and advice from horners like Art DeCamp , Carl Dumke is emerging as a horner whose work is artistic and authentic. Dumke likes horns that are not overly sophisticated; the ones he imagines were made by military men during an engagement. Dumke believes many F&I War horns are commemorative pieces made by paid horners after the military action and he prefers the horns with a more primitive feel. Dumke started out making Revolutionary War and F&I War styled horns to honor the Patriots in his family tree and hunting horns for his non-military ancestors. Dumke toys with the idea of creating his own horn to commemorate his tour in Afghanistan. We at the Honourable Company of Horners thank Col. Dumke for his service to our country and look forward to seeing his own campaign horn!
Carl Dumke does take on commissions for trade signs on occasion. You may reach him through his email address, which is cdumke99@aol.com.
The Jonathan Bagley Horn (by Carl Dumke) Dumke identifies with Col. Bagley and wanted to make a horn to honor Bagley's engagement against the Iroquois and French at Fort William Henry. Here is a series of photos of a campaign horn in period style inspired by the horner John Bush. (The pictures are lightened to show the detail of the horn.)
Col. Carl Dumke, USAF is a twenty-two year career military man stationed in Williamsburg, Virginia. Dumke comes from a military family going back to the birth of our nation. He is married to Jennifer a member of the Daughters of the American Revolution and a self-described "horn widow." Dumke has three children; their ages are twenty-two, eighteen and twenty years of age. Dumke is also a folk artist, who creates one-of-a-kind trade signs in 18