Please Read This First
The Honourable Company of Horners has created this Supplementary Blog to enhance the HCH's regular website. We will use this Blog to give you information that does not easily fit within the structure of the other website.
If you would like to highlight an event or item, please send the information and images to: HCHwebmaster@jwwebsolutions.com.
Always check www.HornGuild.org for additions by clicking on the tab just above.

Here is a review of Art DeCamp's, Pennsylvania "Horns of the Trade" Screw-tip Powder Horns and Their Architecture. The review is  by Mark Preston of Shinin' Times Powder Horns. Stay tuned and check this blog often for postings of interest by various members of the HCH. Please read on and enjoy the review…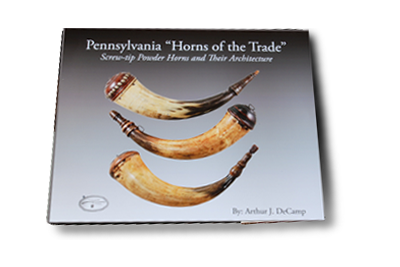 In Pennsylvania "Horns of the Trade" Screw-tip Powder Horns and Their Architecture, Master Horner Art Decamp has delivered a masterpiece.  Art has been a serious student of horn working for over 30 years.  His passion is primarily focused on "trade" horns – those made in a shop or manufactory, as opposed to those "primitive" horns that were often homemade.  He has become one of the leading authorities on Pennsylvania screw tip horns and this volume is the result of his intense interest and decades of study.  For more than 20 years, Art has devoted himself to learning the tools and techniques used to manufacture these historical objects of functional art, and to reproducing accurate representations of the various types.
Art takes the reader through a comprehensive description of horns produced 16 different areas of Pennsylvania; in some cases tracing generations of evolving horn styles within a specific geographical style.  His book is loaded with hundreds of full color photographic plates showing complete specimens of each regional style, and perhaps more importantly and more interesting to any aspiring student of horn working history or budding artisan itching for a challenge, specific details on style, construction, and architecture.  There is delight for the casual student here as well.  Examples of some of the various screw tips exhibit astonishing skill and jaw-dropping flourishes considering the technology of the times.
This volume is an absolute must have for anyone with a love of historical objects, an interest in horn working or simply for those who enjoy the elegance of a well designed and executed piece.  It's loaded with historical information about those who may have carried the horns as well.  If you don't have this book in you library, you need to.  If nothing else it will provide you hours of fascinating reading.  If you're at all interested in horn working the volume explodes with ideas and inspiration.
Horns of the Trade" Screw-tip Powder Horns and Their Architecture
Published by the Kentucky Rifle Foundation:
The result of over 1000 hours of scholarly research
10 makers identified in 14 different schools
108 horns featured with over 400 detailed photographs
A monumental history book and photo essay
Please click here to order the book from the Kentucky Rifle Foundation.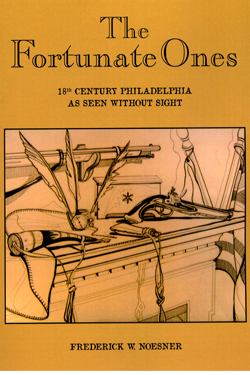 One of our HCH members, Fred Noesner, has published a book of historic fiction. The book is about a gunsmith, Andrew Annaler, who is blinded in a black powder accident at Ft. Pitt during the French and Indian War. Andrew Annaler, now blind, must find his way to his home in Philadelphia and take up his trade in his father's gunshop. The tale carries us through the run-up to the Revolutionary War. Mr. Noesner intersperses real articles from The Pennsylvania Gazette to anchor the storyline in history (a very nice touch!)
Most of all, this story is told from a blind person's point of view in a time when there were no advocates for the blind. If one was blind in 18th  Century Philadelphia and not one of "The Fortunate Ones," life would have been very hard indeed. This story is also about family life and hope.
Mr. Noesner has a unique perspective as a blind person who loves antique weaponry and has worked as a Colonial historic interpreter at Historic Philadelphia. And he makes powder horns.
As mentioned earlier, Fred Noesner is a member of the guild and has been seen making powder horns at Dixon's Gunmakers Fair and the HCH annual events at Fort Roberdeau and Carlisle, Pennsylvania.
You can find this 281 page soft cover book at various online venues, but I urge you to give Fred a call and ask for an autographed copy. The price is twenty dollars plus postage and worth every penny!
Fred can be reached at (215) 772-1752 (eastern time zone).
Erv Tschanz, Master Horner (left) instucts Fred Noesner on lathe work.
Jim Stevens is a member of the Honourable Company of Horners and an author. Stevens wrote Powder Horns: Fabrication & Decoration. I asked Stevens if I could review the book and he sent me a loaner copy very quickly. My assessment of the book follows and I hope you enjoy it. By the way, the HCH's publication, The Horn Book, will have a more detailed article about Jim Stevens in the next issue. Thanks for reading, Rick Sheets HCH Webmaster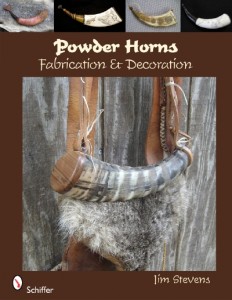 Powder Horns: Fabrication & Decoration
Author: Jim Stevens Schiffer Publishing Size:  8 1/2″ x 11″ Illustrations:  275 color photos Pages:  176 Binding: Soft Cover First of all, I want to thank Jim Stevens for allowing me to review his book. The book is thoughtfully laid out in six chapters, from horn basics through how to strap the horn for carrying. You can start with a fresh horn or hull, learn to turn it into a powder horn, embellish it and then finish with a finger woven strap.  Stevens' book does not gloss over anything. Something I look for in a "how to" book is appropriate illustrations or photographs. Stevens' book has 275 of them. Stevens' writing is clear and concise. He picked a clean, modern type face and size that makes the book easy to read. Chapter 4 was most interesting for me. Stevens takes the reader through the decorating process. Stevens illustrates the time-tested scrimshaw techniques for the purist. And then how to use technology to help get the image you want on your horn. The option of using modern transfer techniques is very nice if you have a complex image to reproduce or if you are challenged in drawing. So do it old-school or new-school; it is up to you. I would like to point out that the book has what I consider a bonus; you will find a whole chapter on how to weave a strap using several different methods. Using the clear instructions in this book removes any excuse you have for making a nice horn and then strapping it badly! After reading
Powder Horns: Fabrication & Decoration
, I can truthfully say, "Pick-up the book, then buy your horn and tools." You will save a few false starts and a wasted horn or two.
>>Buy the book from Schiffer Publications from this link.<<
-Rick Sheets
PS: Please note that Jim Stevens will be giving: Scrimshaw Instruction June 6 – June 10, 2011 at The NRA Gunsmithing School Trinidad State Junior College (Trinidad, CO) Follow this link for more information. www.scrimshawstudio.com/tsjc.html
I asked my friend Rich Pierce to write a review of our new publication as Rich has a unique perspective of the Hartley drawings. Not only is Rich Pierce is a member of the CLA and an amateur gunsmith, horner and accoutrement maker, but a relative of Mr. Hartley himself. Thanks for reading this review. Best regards, Rick Sheets
The Hartley Horn Drawings, Presented by the Honourable Company of Horners
A Book Review by Rich Pierce, guest author
This new book published in 2010 of powder horn illustrations is unique in several ways.  It presents drawings made in the 1930's of early, decorated powder horns from the Mohawk River valley of New York state.  Instead of photos of horns, colored drawings of horns are presented as if the "skin" was unwrapped and laid flat so we can visualize the entire horn in one view.  These drawings were painstakingly made by Robert M. Hartley, an amateur historian and archeologist, and represent just one aspect of his contributions to area history and material collections.
This 79 page soft cover book, 8 ½" x 11", in color on glossy paper represents the work of the Honourable Company Horners (HCH), a group of dedicated craftsmen, historians, and collectors.   The book begins with a brief history of that organization, background about the Margaret Reaney Memorial Library and its collections in St. Johnsville, NY where the original drawings are displayed, and a chapter about the techniques employed in drawing powder horns as if they were "unwrapped." Following this interesting background information, we find drawings of forty horns.   The whereabouts of only a small number of these horns is still known, so for the most part these horns will be new to the reader's eyes.  In cases where the original horn has been located, photographs of the horn are shown beside the Hartley drawings, offering a real sense of the accuracy of his renditions.  The horns illustrated here offer a rather unique view into history through two lenses.  First, Mr. Hartley wrote what was known of each horn including some history of its original and current owners at the time of drawing in the 1930's.  Secondly, some drawings are also accompanied by a brief commentary by a Master Horner of the HCH, offering insights about the styling of the horn and its decoration.  The drawings feature horns from the French and Indian War period through the War of 1812.  Several classical map horns of the French and Indian and Revolutionary Wars are illustrated, some appearing to be professionally made and decorated, and others decorated in folk art styles.   Of the important horns included there is a Jacob Gay horn dated 1759; this is his earliest of twenty horns known by his hand.   Many of the horns are simply spectacular; tastefully decorated throughout the body with maps, geometric, floral, or military designs, and sketches of animals and persons of the time. 
Two of my personal favorites are the Aaron Putnam horn, 1776, and the John I. Putnam horn dated 1757.  Hartley was able to link a number of the horns to local soldiers who served in the French and Indian and Revolutionary Wars, providing insights into frontier life in the Mohawk and Schoharie Valleys in New York. Following the presentation of the forty horn drawings there is an analysis of the elements of design found on these horns, cataloguing the use of maps, coats of arms, forts, ships, persons, animals, people, etc, showing the most interesting motifs in higher magnification for our study. I found the book to exceed every expectation, though in retrospect I should not be surprised in the least, for the HCH is a company of extraordinary craftsmen and artists who are gifted in design and dedicated to our history. 
The layout and design of the book are of first quality and for those who are fascinated by early powder horns, I consider this a "must have" book that will be perused over and over, offering glimpses into our history and a valuable resource for the horners of today and tomorrow. My interest in the Hartley drawings predates the genesis of this fine book.  Robert M. Hartley was my great-uncle; that is, he married my grandfather's sister, Fannie Pierce.  Around 1960, when I was about seven years old, Aunt Fannie passed away and my grandfather was the executor of her estate.  I accompanied my grandpa as he sorted through the household goods and accompanying farming equipment at the Hartley estate, which we considered a "mansion."  Robert M. Hartley had lived as a country gentleman-farmer, employing others to do the farm work while he pursued his interests in archeology and history.  Among the many items in their attic were some copies of the Hartley drawings now shown in this new book.   Though I was just seven or eight years old, these black and white copies of magnificent historical horns captured my imagination.  Grandpa said I could have those old papers if I wanted them.  I kept the copies of those drawings with me for decades, hauling them from my childhood home in the Mohawk Valley of New York State to New Jersey, then Missouri as we followed our careers.
Around 2005 I was planning another powder horn and looked to my copies of the Hartley drawings for inspiration.  I chose what I call "the Ugly Mermaid Horn", dated 1757, and inscribed with the name, Daniel Weatherhead.   Hartley's drawing of this horn is pictured on page 26 of the new book.  In addition to a large figure of a rather unattractive mermaid, this French and Indian War era horn is decorated with floral designs representing seaweed, sea-snakes, and a nice, thick codfish.  I took some liberties as I made my own "Ugly Mermaid Horn" including an unplanned but necessary sheet brass repair fastened over a crack with nails and cutlers resin. I learned that John Proud and other members of the Honourable Company of Horners were planning a book about the Hartley drawings, and was delighted to know that Hartley's drawings would soon be available for enthusiasts. 
I am sure these old drawings will help provide new inspiration for many horners, collectors and historians.

-Rich Pierce

Click here to order the book.