Please Read This First
The Honourable Company of Horners has created this Supplementary Blog to enhance the HCH's regular website. We will use this Blog to give you information that does not easily fit within the structure of the other website.
If you would like to highlight an event or item, please send the information and images to: HCHwebmaster@jwwebsolutions.com.
Always check www.HornGuild.org for additions by clicking on the tab just above.

Guildmaster Dick Toone is the designer and maker (and demonstrator!) of the Guild's spring pole lathe. The lathe is adapted with purpose built attachments for making powder horn parts. Dick is also the artisan behind The Living History Shop (www.livinghistoryshop.com) where this posting first appeared. It is reproduced here to serve as an update to the project.
 In 2011 I undertook the Honourable Company of Horners' By-Law project that provides the Guild have an 18th Century traveling horn shop for educational demonstration at various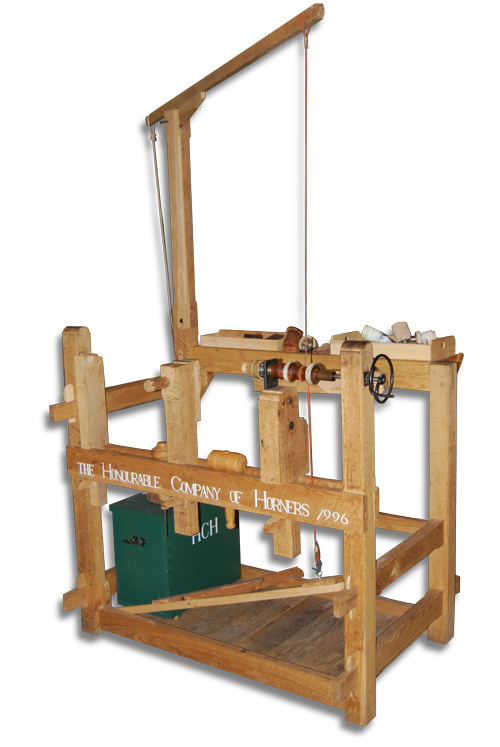 guild related or historical presentations. The lathe is specific to the production of professionally made powder horns using lathe construction detail of an original example capable of turning in open air without fixed centers. A very rare example of this sort of lathe exists in the collections of Old Salem, Winston-Salem, North Carolina.


Old Salem gave me permission to photograph and measure the original and a full size reproduction made by resident gunsmith Blake Stevenson operating in "The Brothers House" original structure. Old Salem is similar to Colonial Williamsburg other than it is in all original buildings, has working gunsmiths and bread baked in a 250 year old oven. Old Salem should be on every historical enthusiast's bucket list. (www.oldsalem.org)


Spring Pole lathes were state of the art for about 500 years gradually replaced by large wheel belt driving small wheel lathes using an off-set crank on the large wheel operated by direct coupling to foot driven rocker treadle toward the end of the 1700′s. These later lathes are called treadle lathes (direct continuous drive) even though a treadle board operated spring pole lathes for centuries.


A major part of the lathe challenge was to establish means to hold and turn things with only known to the period devices. This required jigs, fixtures and even tools unique to the operation of a slow turning lathe that only operates one and one-half turn towards the operator per stroke of the foot.


Modern lathes have easily adjustable inner and outer chucks not available in spring pole times. Professionally made powder horns from a Horn Shop would have been constructed of turned components that could be closely fitted round to round for sealing out moisture. "Keep your powder dry!," as the saying goes.


Professional Horn Shops made various tight containers, combs, buttons, shoe horns, rims for optical lenses(glasses), drinking tumblers and window pane. Yes, flat clear pane for horn books used in schools as well as lanthorns, later called lanterns with glass or mica lenses. When heated cattle horn becomes plastic an adjective meaning malleable. Modern plastic is used as a noun for polymerized, chemical stew that replaced thousands of laborers in the horn industry early last century.


The epicenter of American horn manufacturing was in Philadelphia in the 18th Century boasting twelve shops at the time between the French and Indian war and the American Revolution. Horn smiths looking to strike out on their own relocated to the Southern and Western frontiers producing styles of horn independent of Philadelphia styling allowing researchers today to regionalize examples to a county and sometimes a town by their unique design. The hornsmiths migrated to wherever the frontier moved and the need existed.


Common to almost all professionally made powder horns is a stylized round wooden plug sealed tightly to the heated rounded horn at the big end opening. The tip of the horn is cut off and threaded of a size more suitable for refilling the powder horn. A two to three inch horn tip with a smaller diameter hole is tightly threaded into the main horn. Optimum word tightly to seal. Around the threaded portion of the horn body a horn collar is turned and fitted to provide structural strength to the area around the threaded portion. All of these items need a lathe to make them expertly and each item requires fixtures designed to work within the scope of 18th Century machining. This is experimental archaeology and none of the horns I've made are for sale.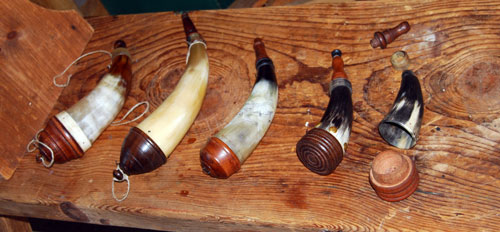 Check out www.hornguild.com for more education about working in cattle horn and this link to see a number of "posts" about the Honourable Company of Horners' spring pole lathe project.


I will be demonstrating with the Spring Pole Lathe at Horn Guild annual convention in March of 2016, Dixon's Gun Fair in Kempton, PA and the CLA show in August at Lexington, KY in 2016. I will be demonstrating the lathe local to me at the Jersey History Fair at Monmouth Battle Park Freehold, NJ in May 2016.
Regards,
Dick Toone
We were all treated to a demonstration of the HCH spring pole lathe turning horn at the 2013 annual meeting at the AHEH in Carlisle, PA this past February. The mandrel was the last critical piece made. It is comprised of lathe turned maple, a short piece of octagonal gun barrel and a bronze bushing. The turning fixtures are mounted to the mandrel.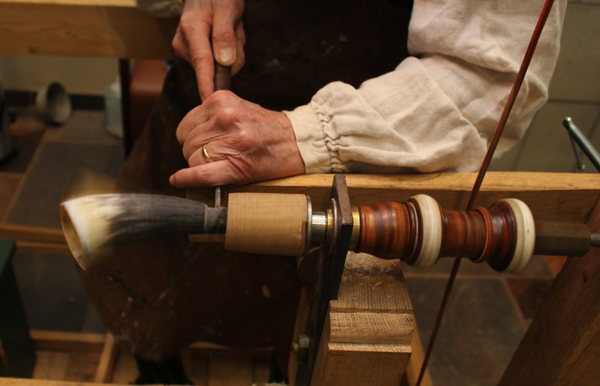 Here you see Dick Toone, the lathe builder, tuning the spout end of a spinning horn. This is accomplished by using one of the purpose-built fixtures. This fixture consists of a wooden cone fitted with a tap to which the spout end of the horn is threaded. This allows the horn to spin directly with the back and forth motion of the drive. As with all spring pole lathes, the operator must move the tool in and out in synch with the alternate spinning of the work. This is a very tricky business!
Dick is experimenting with soaking the horn is warm water just before turning. Early testing has shown that the soaking does make the horn turn a little easier.
We will publish new updates to the Spring Pole Lathe Project as the project matures!
To read other posts about the HCH Spring Pole Lathe Project, click here. Then scroll down. You will see newest posts first, followed by older postings.

Dick Toone, project leader of the spring pole lathe project, displayed the lathe at the HCH's Fifteenth Annual Meeting at Fort Roberdeau. It was very close to completion. Once it is complete the lathe will enable the user to turn all of the parts for a screw-tip horn using only human power much the way it was done in the 18th and the early 19th Centuries.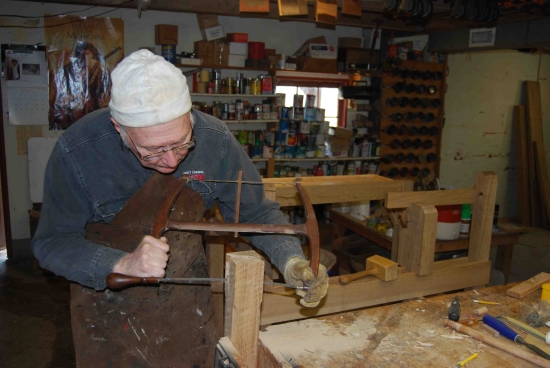 Dick Toone is sawing out the slot for the boom to pivot on with best tool for the job, an original bow saw.
Here is the the temporary mandrel (with the rope around it) supported on a fixed center point at right and the bearing end in a temporary support of wood. When finished the mandrel will be made with a short piece of octagonal rifle barrel with a brass bearing on the end to the left and a wooden spool where the rope will turn it. The rifle barrel end protruding from the bearing will have coarse external threads that various fixtures (face plates) will thread on to to hold screw tip horn parts for turning. Also shown is a mandrel with a fixed drill bit installed made by Erv Tschanz. Several fixed tool mandrels will be employed to do various functions in the manufacture of a screw tip horn.
The next installment will show the finished Portable 18th Century Spring Pole Lathe.

By the way, I urge you to go to Dick Toone's website, Living History Shop, to view his museum quality 18th Century reproductions.

Regards, Rick Sheets HCH Webmaster
It is one thing to buy a plan from a trusted source for a gizmo that has been proven to work. It is a whole new ball game to take an idea for a machine and use period building techniques and years of experience to draw-out your own plan. This is what Dick Toone does and then he builds it.
I have asked Mr. Toone to keep us abreast on the Spring Pole Lathe Project. Mr. Toone believes it will be ready to use at Ft. Roberdeau.
Here is a little teaser on some on the building in process in Mr. Toone's own words.
Thanks Dick for keeping us informed.
Best regards,
Rick Sheets
HCH Webmaster
The approximate 3 X 3 post is being relieved 1/2″ to receive one of the two lathe bed rails after the 14 degree dove tail is cut in to match the already cut dovetail on the rail end. This joining will be glued and pegged for permanent fastening. Here is a plank cross-section of 3″ rough-sawn white oak used to make upright posts. White oak is much more dense and heavy than red oak and was selected for equipment framing like a lathe or printing press, and used extensively in ship building and horse drawn equipment. The posts are now all machined and have mortise holes cut to receive cross beams and rails.  The post shown laying over is connected by a "rule joint" that when upright will have a horizontal light weight beam that transfers up and down foot motion from a treadle via rope to the drive mandrel of the lathe, then to one of the light weight beam ends, the other end of which connects to the spring poles at the base of the frame by another piece of rope.  Sounds complicated, but the picture shows the simplicity.  The "rule" joint is an all wooden hinge design with an iron pivot pin.
I will send more photos next week.
Dick
To be able to demonstrate the Spring Pole Lathe tools will be needed. In particular the following would be basic: (2) Faceplates 3 or 4 inch diameter internal threaded 3/4-16TPI. Turning tools about 16 inches long: (1) 1/2 inch skew chisel, 1 inch same, 3/8 inch Spindle gouge, 5/8 inch same. (1) 1/2 inch Spear point, (1) 1/2 inch Round Nose Scraper, (1) 1/4 inch Parting Tool, and (1) 3/8 inch Hollowing Tool.

To ensure a better 18th Century presentation, these tools can all be used (not new) and do not have to match. It would be preferable that not be shiny chrome for the 18th Century theme. The tools will be stored on a special chest to go with the lathe along with other necessary tools and accessories. The supply of the tools will be a way for members to participate in the Lathe project.

Please bring the tools to the 2011 Annual Meeting now being held at Ft. Roberdeau in Altoona, Pennsylvania.

Regards,
Dick Toone
Project Leader
I asked the project leader, Dick Toone, for an update on the Horn Guild's spring pole lathe progress. Dick was kind to supply an answer and some musings as well. "Tip In or Tip Out?" Dick takes on this question…. please read on. And by the way, Dick is no stranger to 18th Century practical objects. See his website at www.livinghistoryshop.com
Best regards,
Rick Sheets
While helping oldest son Rick prepare the Thanksgiving turkey, he now relieving his Mother of this duty, he questioned my progress on the Horn Guild lathe.  I brought forth my explanation of the importance of an off-center lathe for horn production from a horn shop and by way of explaining I twirled an original screw tip that hangs over our kitchen fireplace along with an original Peter Gonter rifle.  I told him that John Getz was producing one of the most important pieces (the mandrel) now and am finishing the drawings of the frame. At some point I brought up the fact that the major percentage of the horns were worn on the right side and were horns from the cow's right side as is my original.  This "fact" comes from years of observation of originals by Roland Cadle and he gives no reason. 
My son, Rick, is a luthier and studying 17-18th Century violin makers'  techniques to advance his acoustic guitar knowledge and voiced his opinion that everything in the "pre-modern fastner/manufacturing period" had a reason for use.  I agreed and we deserted the kitchen for the gun shop, there being horns to play with.
When I needed a powder horn to use with the first rifle I made in 1977 I, like my buddies chose from a heap of raw horns ones one that fit the contour of my body on the right hand side with the tip snug to the belly.  This was the popular thought of the embryonic trekking period and well before Roland Cadle's espoused observed knowledge.  Didn't want to catch that tip running through the brush!  Reinforcing the idea there must be a reason for the shape selection of the powder horn I noted that the professional horn builder in the 18th century would have received an equal amount of left and right horns to work with yet selected the right side for powder horns.  Right handedness was considered correct for eons and children were taught to write with their right hand even if they were left handed.  My observation in Africa and more recent television exposure of other nations eating procedures of using only fingers of their right hand, enhanced by the knowledge that there is no toilet paper in these areas leads me to believe that there is a deep rooted reason buried back in our physic for aversion to left handedness.  In today's Western Civilization lefties are OK even desired in baseball pitchers.
Rick and I then donned horns with "tip in" and "tip out" and observed each other going through the measuring and loading procedure and compared our thoughts.  Shortly, younger son Rob (age 40) stuck his nose up in the gun shop to see if he was missing out on something important like dividing the family fortune (or lack of fortune) and we immediately recruited him into our experiment with no explanation.  (Both of our sons grew up with muzzleloaders as their earliest gun experience.)
All of us confirmed that the flow of powder coming out of a "tip out" right side worn horn was easier to control than 'tip in" – though slightly.  Independent of collaboration both boys thought falling flat head first on a "tip-in" horn would hurt more and were a "tip-out" horn to ever be inverted over a muzzle directly and a flash back occur the full weight of the powder in the horn would be exposed to possible spark rather than a slim trail in the neck leading to the main body of powder.  We cut off  the experimentation in time to get the turkey out of the oven before the ladies found out what we were doing.


Dick Toone
On September 30, 2010 Guildmaster Ed Long and I made a personal inspection and discussion of use of an original mid-eighteenth century spring pole lathe at Old Salem in Winston-Salem, North Carolina.  The gunsmith manager, Blake Stevenson, and his crew assisted us with discussion of use of components, photography and measurements of all aspects as well as providing photo copies from a 1756 description of lathes by Johann Martin Teuber that is no longer in print.  The old original is of Germanic design American made and was modified and used for more than 150 years.
The purpose of the visitation was to gain knowledge from an original lathe so that a similar design could be produced for use in the Horn Guild house next to Jacobsburg Historical Society's property in Bolton, Pennsylvania. This lathe will be portable and used to reproduce early powder horns with turned elements. 
I will undertake the reproduction project and will be assisted by other guild members.  The target date for lathe's completion is March, just in time for the HCH Convention in Morristown, NJ. I want to thank Blake Stevenson and the staff of Old Salem Museum and Gardens for their help with this undertaking.
Old Salem Museum and Gardens is located in Old Salem, North Carolina.
Please visit their website by clicking here, www.oldsalem.org.
Regards,

Dick Toone