Please Read This First
The Honourable Company of Horners has created this Supplementary Blog to enhance the HCH's regular website. We will use this Blog to give you information that does not easily fit within the structure of the other website.
If you would like to highlight an event or item, please send the information and images to: HCHwebmaster@jwwebsolutions.com.
Always check www.HornGuild.org for additions by clicking on the tab just above.

Guildmaster Dick Toone is the designer and maker (and demonstrator!) of the Guild's spring pole lathe. The lathe is adapted with purpose built attachments for making powder horn parts. Dick is also the artisan behind The Living History Shop (www.livinghistoryshop.com) where this posting first appeared. It is reproduced here to serve as an update to the project.
 In 2011 I undertook the Honourable Company of Horners' By-Law project that provides the Guild have an 18th Century traveling horn shop for educational demonstration at various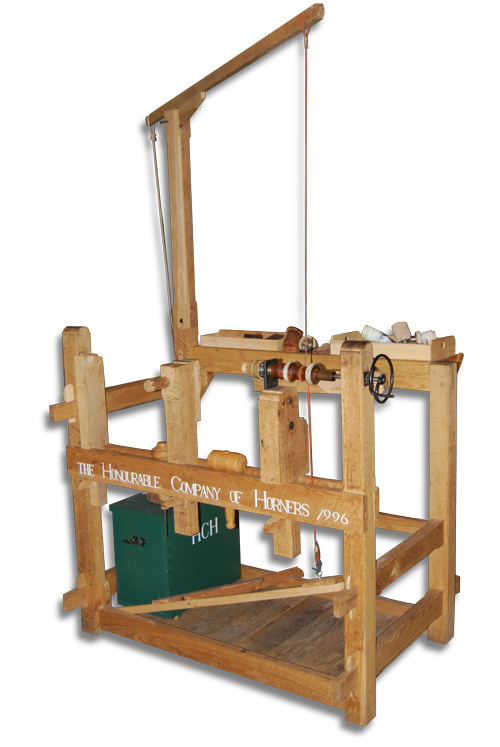 guild related or historical presentations. The lathe is specific to the production of professionally made powder horns using lathe construction detail of an original example capable of turning in open air without fixed centers. A very rare example of this sort of lathe exists in the collections of Old Salem, Winston-Salem, North Carolina.


Old Salem gave me permission to photograph and measure the original and a full size reproduction made by resident gunsmith Blake Stevenson operating in "The Brothers House" original structure. Old Salem is similar to Colonial Williamsburg other than it is in all original buildings, has working gunsmiths and bread baked in a 250 year old oven. Old Salem should be on every historical enthusiast's bucket list. (www.oldsalem.org)


Spring Pole lathes were state of the art for about 500 years gradually replaced by large wheel belt driving small wheel lathes using an off-set crank on the large wheel operated by direct coupling to foot driven rocker treadle toward the end of the 1700′s. These later lathes are called treadle lathes (direct continuous drive) even though a treadle board operated spring pole lathes for centuries.


A major part of the lathe challenge was to establish means to hold and turn things with only known to the period devices. This required jigs, fixtures and even tools unique to the operation of a slow turning lathe that only operates one and one-half turn towards the operator per stroke of the foot.


Modern lathes have easily adjustable inner and outer chucks not available in spring pole times. Professionally made powder horns from a Horn Shop would have been constructed of turned components that could be closely fitted round to round for sealing out moisture. "Keep your powder dry!," as the saying goes.


Professional Horn Shops made various tight containers, combs, buttons, shoe horns, rims for optical lenses(glasses), drinking tumblers and window pane. Yes, flat clear pane for horn books used in schools as well as lanthorns, later called lanterns with glass or mica lenses. When heated cattle horn becomes plastic an adjective meaning malleable. Modern plastic is used as a noun for polymerized, chemical stew that replaced thousands of laborers in the horn industry early last century.


The epicenter of American horn manufacturing was in Philadelphia in the 18th Century boasting twelve shops at the time between the French and Indian war and the American Revolution. Horn smiths looking to strike out on their own relocated to the Southern and Western frontiers producing styles of horn independent of Philadelphia styling allowing researchers today to regionalize examples to a county and sometimes a town by their unique design. The hornsmiths migrated to wherever the frontier moved and the need existed.


Common to almost all professionally made powder horns is a stylized round wooden plug sealed tightly to the heated rounded horn at the big end opening. The tip of the horn is cut off and threaded of a size more suitable for refilling the powder horn. A two to three inch horn tip with a smaller diameter hole is tightly threaded into the main horn. Optimum word tightly to seal. Around the threaded portion of the horn body a horn collar is turned and fitted to provide structural strength to the area around the threaded portion. All of these items need a lathe to make them expertly and each item requires fixtures designed to work within the scope of 18th Century machining. This is experimental archaeology and none of the horns I've made are for sale.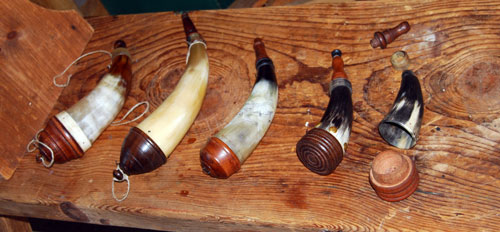 Check out www.hornguild.com for more education about working in cattle horn and this link to see a number of "posts" about the Honourable Company of Horners' spring pole lathe project.


I will be demonstrating with the Spring Pole Lathe at Horn Guild annual convention in March of 2016, Dixon's Gun Fair in Kempton, PA and the CLA show in August at Lexington, KY in 2016. I will be demonstrating the lathe local to me at the Jersey History Fair at Monmouth Battle Park Freehold, NJ in May 2016.
Regards,
Dick Toone
The 2012 Dixon's Gunmakers Fair is over and we have the winners of the HCH Raffle. I want to thank the following people for their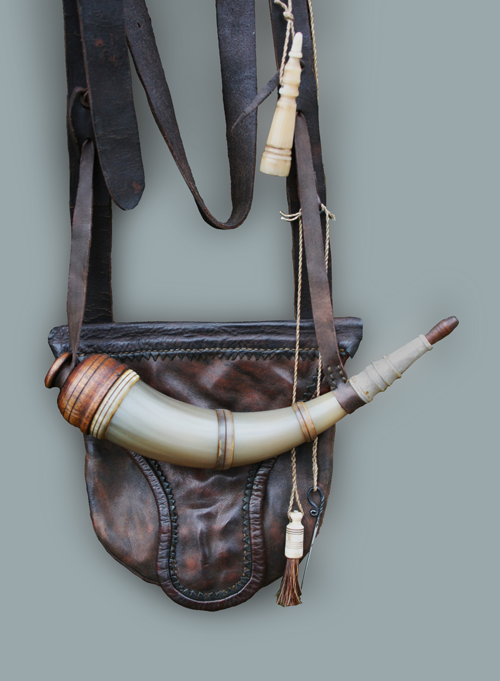 generous contribution to the guild's raffle:
Jeff Bibb for the Iredell County, NC pouch
Billy Griner for the Rowan County, NC horn
Mark Ewing for the lathe-turned powder measure
Jeff Bottiger for the pick and brush set
This complete set was amazing and everyone who saw it really admired the craftsmanship.  
I am also pleased to announce that from the kindness of some other members we were able to give away three more prizes- a sash by Kris Polizzi and two really nice powder measures made from antler by Terry Morgan. These three extra pieces are a nice testament to the craftsmanship that is in our guild.
Now to congratulate all the winners:
Walt Morgis of VA for winning the bag and horn set
Rachael Pease of IN for winning the sash
Lawrence Wlazlo of NJ for winning the 60 grain powder measure
Richard Lyle of PA for winning the 20grain powder measure
Edwin McDilda
The HCH is getting ready to set-up and do a little demonstrating at the Museum of Appalachia Fall Homecoming this year. The event will be held at the Museum in Norris, TN from October 11th through the 14th. October 11th will be set aside for students from the local school system to come out and view the demonstrations. This School Day is now firm.
As of now, we are planning to demonstrate as many aspects of horn work as possible to the public over the three days of the event. In the past we have accomplished some prep-work, scraping, smoothing, carving, engraving, and even fitting a couple of plugs…fine work indeed. This year we will add pressing to that list. And who knows maybe some turning.
The plans are to set up under my fly so that we will have more shade that was offered by the corn crib in the past. Other tenting arrangements can be made if anyone has any suggestions. All participants of the delegation of HCH members will need to be "in uniform" for the entire event. Period clothes (18th or 19th Century workman or civilian clothes) will work for this event.
I look forward to attending this event with all who can come down. If you can't come, you are missing a wonderful opportunity to show off the very best that the HCH has to offer to the public. The staff at the museum are very excited to have us back this year.
We are allowed to sell our makings during the event. If we sell, there is a minor division of proceeds with the Museum. Those proceeds are considered donations to the Museum and are tax deductible (of course consult your income tax preparer).
Please come and support your organization at the Museum of Appalachia Fall Homecoming. Also, please spread this request to other members that any of you may know that would enjoy coming out to support the cause. I (Billy Griner) am the point of contact and organizer for this showing. My email address is billy@billygriner.com.
There are lots of diversions right at hand for spouses and family who want to tag along. Bluegrass music, mountain music, demonstrations of old skills and crafts and just the enjoyment of numerous period structures and barnyard animals. There are museums on the property as well.  Please have a look at their website for details, click here.
I am, YMOS
Billy Griner
Publications Chair, HCH
Here is a review of Art DeCamp's, Pennsylvania "Horns of the Trade" Screw-tip Powder Horns and Their Architecture. The review is  by Mark Preston of Shinin' Times Powder Horns. Stay tuned and check this blog often for postings of interest by various members of the HCH. Please read on and enjoy the review…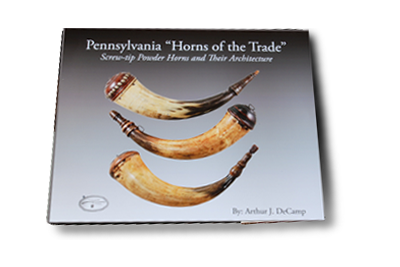 In Pennsylvania "Horns of the Trade" Screw-tip Powder Horns and Their Architecture, Master Horner Art Decamp has delivered a masterpiece.  Art has been a serious student of horn working for over 30 years.  His passion is primarily focused on "trade" horns – those made in a shop or manufactory, as opposed to those "primitive" horns that were often homemade.  He has become one of the leading authorities on Pennsylvania screw tip horns and this volume is the result of his intense interest and decades of study.  For more than 20 years, Art has devoted himself to learning the tools and techniques used to manufacture these historical objects of functional art, and to reproducing accurate representations of the various types.
Art takes the reader through a comprehensive description of horns produced 16 different areas of Pennsylvania; in some cases tracing generations of evolving horn styles within a specific geographical style.  His book is loaded with hundreds of full color photographic plates showing complete specimens of each regional style, and perhaps more importantly and more interesting to any aspiring student of horn working history or budding artisan itching for a challenge, specific details on style, construction, and architecture.  There is delight for the casual student here as well.  Examples of some of the various screw tips exhibit astonishing skill and jaw-dropping flourishes considering the technology of the times.
This volume is an absolute must have for anyone with a love of historical objects, an interest in horn working or simply for those who enjoy the elegance of a well designed and executed piece.  It's loaded with historical information about those who may have carried the horns as well.  If you don't have this book in you library, you need to.  If nothing else it will provide you hours of fascinating reading.  If you're at all interested in horn working the volume explodes with ideas and inspiration.
Horns of the Trade" Screw-tip Powder Horns and Their Architecture
Published by the Kentucky Rifle Foundation:
The result of over 1000 hours of scholarly research
10 makers identified in 14 different schools
108 horns featured with over 400 detailed photographs
A monumental history book and photo essay
Please click here to order the book from the Kentucky Rifle Foundation.
The 38th Annual Dinner Meeting of the Jacobsburg Historical Society to be held on November 10, 2011
The Jacobsburg Historical Society is pleased to announce that Richard Hujsa will be the Keynote Speaker at their Annual meeting. Rich has been a member of the HCH for several years.
 A lifelong student of Early American rifles made in Southeastern Pennsylvania, Rich is widely known among collectors, scholars, builders, restorers, and shooters of these guns. He has built many Flintlock rifles and restored countless originals. Many years ago, Rich had an idea of starting a Gun Makers Fair. Chuck Dixon was approached and they decided to hold a one time event. 29 years later, Rich Hujsa is still in charge of the Gun Builders competition!
 A life long Deer Hunter and a passionate Turkey Hunter, he has taken many with his Flintlock Rifle and smoothbore guns.
 The membership of the Jacobsburg Historical Society is in for a real treat on November 10th.
- Frank Willis (JH)
Now being shown through August 14, 2011
is a partial exhibit of watercolor drawings (16) of Rufus Grider at the Arkell Museum in Canajohorie , NY located in the middle of the historic Mohawk Valley .  For additional information and directions, please feel free to visit their website:
http://www.arkellmuseum.org/
I've also located additional images of Grider's drawings in full color at the virtual museum of the NY historical society website:
http://emuseum.nyhistory.org:8080/emuseum/
Type in 'Rufus Grider' in the search block and hit enter.  Sadly not all the drawings will appear, but you will be very happy with the ones you find. If you're  interested  in this fascinating look into our past, specifically making or collecting American powder horns, you will enjoy the images.
- Freeman Gary Elsenbeck
Last March, at the annual HCH Conference, the Executive Committee voted to support a request from the Jacobsburg Historical Society (JHS) for funds to renovate a section of their barn complex. This project is to create space for their expanding Early American Craft program. A donation of $2500.00 was approved and a previous donation of $500.00 was to be applied as well. For many years, JHS has offered a rifle building class. The classes soon reached their maximum and are now offered twice a year to accommodate the volume of students. Three years ago, the HCH offered to teach and sponsor a horn class as part of the JHS craft program. The powder horn class is now at full capacity. Last year a leather class was added and due to the lack of space, it is held at a remote location. The Board of Directors at JHS realized that additional space was needed. The barn complex (used for storage) was the least expensive and most logical choice. Support was sought from the CLA, KRA, HCH, Embassy Bank, Northhampton County and several private donations, all graciously supported the renovation project. Three rooms are involved. One will be a 20'X 24' space for the classes. Another room will be a bathroom and tool and storage area. The third will be a utility room. The permit process is now underway and it is hoped that construction will start this fall. Many of our guild members are familiar with Jacobsburg which is now the location of our annual summer picnic. The event is held in the garden of the J.J. Henry Mansion. Our members are offered tours of the house as well as a visit to the Pennsylvania Longrifle Museum and the Nicholas Hawk gun shop. This is the site of the Bolton Gun Works that was built in 1812 by the Henry family. Today it is 30+ acres of beautiful, rural Pennsylvania. Our summer picnic takes place the Friday evening of Dixon's Gun Makers Fair which is only 45 min. away. Our summer event is a great opportunity for the members, their friends and families to gather together and socialize. For more information about the Jacobsburg Historical Society, visit
It is one thing to buy a plan from a trusted source for a gizmo that has been proven to work. It is a whole new ball game to take an idea for a machine and use period building techniques and years of experience to draw-out your own plan. This is what Dick Toone does and then he builds it.
I have asked Mr. Toone to keep us abreast on the Spring Pole Lathe Project. Mr. Toone believes it will be ready to use at Ft. Roberdeau.
Here is a little teaser on some on the building in process in Mr. Toone's own words.
Thanks Dick for keeping us informed.
Best regards,
Rick Sheets
HCH Webmaster
The approximate 3 X 3 post is being relieved 1/2″ to receive one of the two lathe bed rails after the 14 degree dove tail is cut in to match the already cut dovetail on the rail end. This joining will be glued and pegged for permanent fastening. Here is a plank cross-section of 3″ rough-sawn white oak used to make upright posts. White oak is much more dense and heavy than red oak and was selected for equipment framing like a lathe or printing press, and used extensively in ship building and horse drawn equipment. The posts are now all machined and have mortise holes cut to receive cross beams and rails.  The post shown laying over is connected by a "rule joint" that when upright will have a horizontal light weight beam that transfers up and down foot motion from a treadle via rope to the drive mandrel of the lathe, then to one of the light weight beam ends, the other end of which connects to the spring poles at the base of the frame by another piece of rope.  Sounds complicated, but the picture shows the simplicity.  The "rule" joint is an all wooden hinge design with an iron pivot pin.
I will send more photos next week.
Dick
To be able to demonstrate the Spring Pole Lathe tools will be needed. In particular the following would be basic: (2) Faceplates 3 or 4 inch diameter internal threaded 3/4-16TPI. Turning tools about 16 inches long: (1) 1/2 inch skew chisel, 1 inch same, 3/8 inch Spindle gouge, 5/8 inch same. (1) 1/2 inch Spear point, (1) 1/2 inch Round Nose Scraper, (1) 1/4 inch Parting Tool, and (1) 3/8 inch Hollowing Tool.

To ensure a better 18th Century presentation, these tools can all be used (not new) and do not have to match. It would be preferable that not be shiny chrome for the 18th Century theme. The tools will be stored on a special chest to go with the lathe along with other necessary tools and accessories. The supply of the tools will be a way for members to participate in the Lathe project.

Please bring the tools to the 2011 Annual Meeting now being held at Ft. Roberdeau in Altoona, Pennsylvania.

Regards,
Dick Toone
Project Leader