Please Read This First
The Honourable Company of Horners has created this Supplementary Blog to enhance the HCH's regular website. We will use this Blog to give you information that does not easily fit within the structure of the other website.
If you would like to highlight an event or item, please send the information and images to: HCHwebmaster@jwwebsolutions.com.
Always check www.HornGuild.org for additions by clicking on the tab just above.

June 2014 – The Second Advanced Horn Class at the Boulton Historic Site was a Success.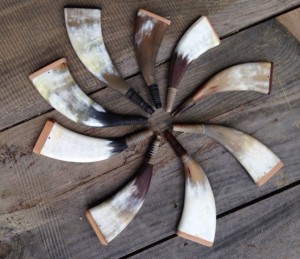 The second Advanced Horn class held at the Jacobsburg Historical Society Craft Center took place on June 7th and 8th in Nazareth, PA. This followed the first class of last year where John DeWald and Frank Willis taught a capacity group of 10 students the art of scrimshaw and horn decoration.
 This year John and Frank offered a program to teach students how to make a flat horn with a screw-tip. Hoping to match last year's full enrollment, they were not prepared for the response they received. 16 students signed up for the class! It was not possible to accommodate that many students for the weekend program. The 2 HCH instructors put their heads together and were able to find a second weekend and split the class in half. The first class, held in June taught 8 horners how to flatten a horn and fashion a screw tip.   
The second class is scheduled for the 6th and 7th of September to instruct the remaining 8 students to do the same.
John and Frank worked as a team. John handled the lathe and the turning of the screw tips and Frank oversaw the shaping of the horn, installation of the base plug and the final finish. All the students made great horns. The remaining question is – what do these 2 Horn Guild instructors have planned for next year, perhaps a horn cup with a chimed in bottom?
If you are interested in attending one of these classes taught by HCH members, contact Frank at: 908-246-8935908-246-8935 or ftwillis@ptd.net.