Please Read This First
The Honourable Company of Horners has created this Supplementary Blog to enhance the HCH's regular website. We will use this Blog to give you information that does not easily fit within the structure of the other website.
If you would like to highlight an event or item, please send the information and images to: HCHwebmaster@jwwebsolutions.com.
Always check www.HornGuild.org for additions by clicking on the tab just above.

June 8-9, 2013 Horn Engraving and Coloring with John DeWald at Jacobsburg Historic Site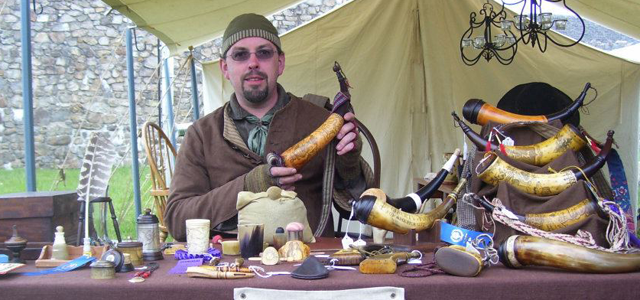 The advanced horn class at Jacobsburg will be a class focusing on the engraving, engrailing and staining of horn.  All materials will be provided but students are encouraged to bring a finished horn or horn object they wish to engrave, engrail, or stain.  They are also welcome to bring along any engraving tools that they are comfortable in using.  The planned project for engraving is a Fraktur design on a pre-flattened piece of cow horn. The Fraktur design will allow for the teaching/explanation of the different styles of engraving in one piece of artwork.
The class will start with the preparation of the surface by scraping/sanding and then focus on engraving with final steps to be the application of ink to the design and the staining/coloration of the horn to add an aged appearance.
This class will be taught by Journeyman John DeWald and will be held over the weekend of June 8 and 9th at the Jacobsburg Craft Center.  The cost is $120.00.


If any one is interested in more information about this Advanced Horn Decorating Class, please contact Frank Willis at 908-246-8935 or John DeWald at 570-220-6450. Class size is limited, so please let us know if you wish to attend.
To see some samples of John DeWald's work, please go to his website at www.pahorner.com.